With Halloween right around the corner, your child is probably bouncing off the walls with excitement. Thinking of all the free candy and dressing up will surely have your child giddy. Parents can gear their kids up for the upcoming holiday with these fun Halloween activities. Break those pumpkins out and get to carving!
Halloween Activities Include Pumpkin Carving!
One of the funnest Halloween activities you and your child can partake in is pumpkin carving. A very timely activity, nothing says spooky like carving out some creative faces in a bunch of pumpkins! 
Not only is it a great bonding activity between parent and child, but it also can make for great Halloween decorations outside the home.
As parents, make sure you're supervising your child and teaching them practical knife safety. On top of that, you should use sharp tools when carving your pumpkin. Dull blades will make it hard to see what you're doing and could also break off pieces of the pumpkin when you're cutting them out.
Watch a Halloween Movie
What better way to get some family time in than to watch a movie?! Watching a Halloween movie with the family is a great way to bond with one another while getting into the spirit of Halloween. Some favorites to choose from are "The Nightmare Before Christmas," "Hocus Pocus," and "The Addams Family."
To round out the evening of movie-watching, make sure to get the snacks prepared! Maybe planning a pre-Halloween where you and your family can feast on a small amount of candy beforehand. If you don't want to go the candy route, popcorn is always a safe option to keep everyone happy and satisfied! It's the perfect combination of Halloween activities.
Bake Some Spooky Treats
Halloween activities aren't just limited to movies and pumpkin carving! Halloween presents the perfect season to indulge in your sweet tooth. Not only do you have access to all the candy you want, but you can get creative in the kitchen by baking some spooky, Halloween-themed treats!
Baking is a great activity to do with your child. It's fun and educational, plus it can be whatever you want it to be! You can make treats that are tasty and nutritious, or you could go for something more indulgent. How about these Milk Chocolate Stuffed Jack-o-Lantern Cookies? If that's too sweet for your taste buds, then how about these Red Velvet Vampire Cupcakes? 
Make Your Own Costume
Of course, one of the best Halloween activities includes making your own costume! Here, children and families alike can get really creative. You can use items from any range of places, including from stationary stores, Halloween shops, and just about anywhere!
You can even use what's in your closet! If you have a tuxedo with tails or an old prom dress hanging around somewhere in the back of your closet, try bringing them out again and wearing them as part of your Halloween costume this year. Even if they're not perfect for Halloween (for example, if it's not black), adding some decorations such as spider webs around the shoulders will help turn them into something new and spooky for the season!
You can also make a prop. Many classic horror movies feature creepy props such as dolls or masks that people use during their costumes. Think Jason's hockey mask from "Friday the 13th," or Freddy Krueger's gloves from "A Nightmare on Elm Street."
Attend a Free Halloween Event in Your Community!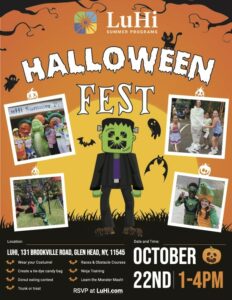 Depending on where you live, there may be fun Halloween activities for the entire family available in your community!
On Saturday, October 22nd, LuHi will be hosting its Annual Halloween Fest from 1-4pm! Campers can wear their costumes and partake in awesome activities like ninja training, races, and obstacle courses. There will also be a donut-eating contest, trunk or treat, and kids can create their own tie-dye candy bag. We hope to see you there!
Getting Creative at LuHi
At LuHi, we encourage all of our campers to explore their creativity whether its at camp or beyond the fields. With our numerous programs that allow children to explore arts, athletics, and more, there are plenty of activities that help keep your child curious and engaged.
To learn more about how LuHi can benefit your child, please visit our website and get in touch with us today!