For many of us, the idea of sitting at home for an undetermined amount of time seems intimidating. We're supposed to homeschool our kids, work from home, get along with our family in a confined space, all while resisting the urge to crack into the emergency pack of Oreos we promised ourselves would make it until at least week two! Seems difficult, if you ask us. Throughout these unsettling times, it's important to remain calm and rational while finding ways to keep our families safe and healthy. We've put together some ideas for how to stay sane and motivated during this temporary reality.
1. Have a routine
Even the most seemingly insurmountable tasks can be made more manageable if there is a plan in place. If there's one thing that may help keep you and your family on track during this time, it is setting up a routine. Knowing that there is a plan for the day and expectations as to what is accomplished will help dissuade you and your kids from the ever-tempting idea of laying on the couch all day watching Netflix.
Consider the following sample schedule that may work for families with older elementary/middle school-aged children.
2. Plan time together…& time a part
This current health crisis has brought with it many heartaches and difficulties. However, something to be especially thankful for is the way it has brought many of us together with our families! Before quarantine, weekly schedules were packed to the brim, leaving things like family dinner or game night as a distant, unattainable fairytale. Now, with no basketball practice or weeknight errands, family time can take centerstage! This time together is not something that comes around often, so take advantage! Take the time to plan family activities– after dinner walks, movie night, bike rides, etc. It may take some effort, both in the planning and execution, but it will be worth it!
Now, it goes without saying that spending a lot of time together is not always easy, especially if you have multiple kids! So, as important as it is to plan time together, it is just as important to allow each individual member of the family to plan time apart: silent reading hour, puzzle time, exercising, an episode of a favorite show, etc. Ensuring everyone has alone time to decompress will help limit parent/sibling squabbles that are bound to happen.
3. Stay active
When you're cooped up in the house all day with a bag of chips staring you right in the face, it may seem difficult to motivate yourself to stay active. While there is absolutely nothing wrong with snacking, it is also important that we keep our bodies moving! Staying active will help keep both your body and mind alert throughout the day. Try and set aside 30 minutes each day to do something physical – jog around the neighborhood, try online yoga/workouts, learn a TikTok dance with your kids! It doesn't have to be perfect, it just has to get you moving!
Our director, Ed Parry, has been getting his workouts in through AMP Fitness' online workouts. Ed was involved in two of AMP's fitness challenges earlier this year and is continuing his fitness journey through AMP's Instagram and YouTube pages.
You can access them here: https://www.instagram.com/amp_athlete/?hl=en
4. Get some fresh air
Even if you just step out into your backyard for a few minutes, getting some fresh air and sunlight can totally change your outlook on the day! Head out for a walk or run in your neighborhood (while abiding by social distancing, of course) in order to get your blood pumping and escape the confines of the quarantine.
Linda-Lee, a member of our Administrative Team, is ensuring she gets plenty of time outside through daily walks with her pup, Truman! Their daily dose of fresh air & sunshine help both Truman & Linda-Lee stay optimistic that quarantine will be over soon!
5. Start a DIY project
A brand new DIY project might seem daunting, but you can start small! Print some
coloring pages from the Internet, order a puzzle, bake something you've never tried before, or even break out your old knitting needles and yarn to finish that sweater you started all those years ago! The idea here is not to stress yourself out more, but find a project that you can complete either alone or with your quarantine-mates that will help you feel accomplished and creative!
Victoria, one of our Assistant Directors, has started a new hobby: embroidery! She had some thread and needles at home and learned through YouTube videos!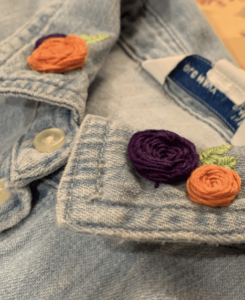 6. Set realistic goals…and boundaries
If you're anything like our WFH team, you probably worked ALL DAY for the first few days of this "new normal." However, as we quickly learned, it's important to set realistic goals and boundaries for working from home in order to maintain your mental and physical health.
You could start by making To-Do lists at the beginning of each day, outlining the items you absolutely have to get done during that day. If you're able to accomplish those goals before your work day is done, pat yourself on the back and reward yourself with a nice break. Then, you can work on some extra items that could make tomorrow's work day easier! The important thing here is to make sure your to-do list is DOABLE. If your list is too long, you won't be able to check everything off, which could leave you feeling discouraged or disappointed. When you check things off and accomplish your daily goals, you'll feel more fulfilled and satisfied. You could even set some non-work related goals for fitness, housework, and other projects – things that you can easily complete intermittently throughout your day.
It's also important to set boundaries with your work, both physically and mentally. It's important to distinguish between places where you feel most relaxed and at ease and places where you feel productive and focused. For example, answering emails and phone calls from your bed or comfy couch might be tempting, but it could also cause you to fall asleep during the workday or give in to other distractions like the TV. It could also cause you to keep working well before or past the work day. Try setting up an "office" at a table or desk that you will work from for a specific amount of time, and leave that place at the end of your work day. You can have a snack, watch your favorite streaming service, lounge, and do other non-work related activities in other areas of your house or apartment. You could even enlist your partner, siblings, or children to hold you accountable for your workday parameters! These boundaries will help you switch more easily from "Work Mode" to "Me Mode."
7. Support your local businesses!
Maybe you're getting tired of cooking every day and night. Maybe you've already eaten all of your quarantine snacks. Maybe you just miss going out to your favorite restaurant for a treat. Whatever your reasons, you can satisfy your cravings AND help out local restaurants at the same time! Many local restaurants, delis, and bars are offering take-out or delivery for food and drinks! Not only are you treating yourself to something fun and delicious, you're also helping to support a local business in our current circumstances.
Working from home carries its own set of difficulties, but we hope these tips will help you and your family stay positive and motivated throughout this time.
Lastly, we understand that not everyone is working from home right now. Dedicated doctors, nurses, first responders, caregivers, and countless other essential workers are still risking their health and safety to care for others during this uncertain and sometimes frightening time. We are so grateful to all those who are continuing to work during this period and are in awe of their bravery and selflessness.
We care deeply for all members of our LuHi Family and wish you and yours health, safety, and peace of mind. Be well!
Check out these links for more tips, ideas, projects, and videos!
https://www.instagram.com/busytoddler/
https://www.youtube.com/user/CosmicKidsYoga
https://www.instagram.com/recycleandplay/
https://www.instagram.com/p/B9wunPdho7Y/
https://www.partycity.com/pi-7-baking-ideas-to-add-some-sweetness-to-your-day.html?extcmp=em_sfmc_US_319_202020319_US_BringFunHome____